Choose Triactive Media for all your Epicor® B2B Seller Needs
Triactive Media offers a wide variety of services to the Epicor® B2B Seller customer base. From redesigns to functionality improvements and better SEO, there is nothing we can't improve. On this page, you will see our areas of expertise plus an example of everything in action.
B2B Seller Mobile Friendly Responsive Redesigns.
Our mobile-friendly redesign results in an optimal experience for all users of your website, no matter what kind of device they are on.
The responsive redesign is the backbone on which the rest of our services usually rest. We can take a B2B Seller website and turn it into the best-in-class, modern-looking website users are looking for. All of our site redesigns are mobile-friendly. Many internet users view the web through the phone, so making sure a company's site looks amazing on every screen is something we take pride in doing.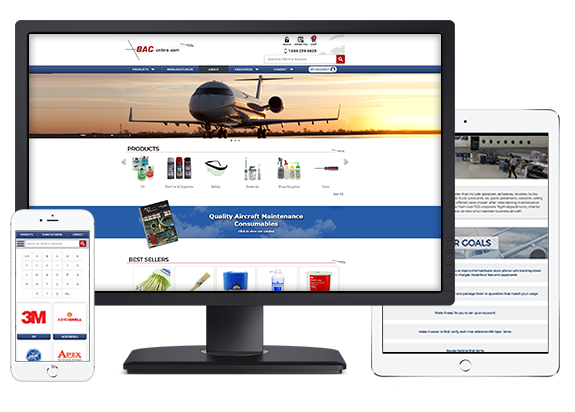 B2B Seller Plugins
With such a wide range of Prophet 21 B2B Seller customers, there is no doubt individual needs will be unique to each business. Triactive has discovered many of our customers experience the same pain points and much of the work we do solves a need experienced by the whole spectrum of B2B Seller customers. We have ended up creating a number of plugins suitable for the B2B Seller community, and with slight modifications, we tailor these plugins to match your companies' specific goals. Click here to see our full plugins list.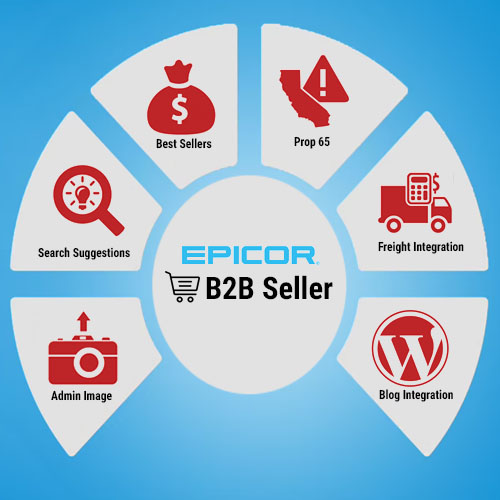 B2B Seller Support and Maintenance
Choose Triactive Media to be your go-to team for all B2B Seller support, maintenance and training. From tasks such as changing content on existing pages, upgrading B2B Seller versions, and managing middleware components, there's no job too big or too small. We have a full-time staff of USA-Based team members address your questions, issues and concerns same day.
B2B Seller Hosting
For customers interested in migrating away from their existing hosting environment, Triactive offers web hosting solutions for B2B Seller on the Microsoft Azure Cloud Hosting Platform. Coming aboard to our hosting platform also open you up to more functionality and performance enhancements such as SEO-Friendly URLS, backend Item Search modifications and additional 3rd party integrations.
B2B Seller Search Optimization
Improving SEO can be difficult for companies with B2B Seller sites, which is where Triactive Media comes in. We know exactly what to do to reconfigure your pages to get the best possible search optimization for your site.
B2B Seller Marketing
Tools and workflows to keep customers on your page and place orders. We can utilize enhancements, campaigns and marketing materials to draw your customers' eyes to anything you might want them to see.
Full Plugins List
Our Phoenix ECOM Product is full of all the features your administrators and customers need to get your product from the warehouse to your customers storefront.
| Section | Plugin | Additional Notes |
| --- | --- | --- |
| Content/Marketing | Admin Image | Maintain item and category images on the fly through B2B Seller. |
| | Missing Images Report | |
| | Admin Data Tabs with Filters | |
| | Shopper Items Notes | Allows your customers to write their own personal notes for items on your site. |
| | Wordpress Blog | Incorporate your companies WordPress blog into your B2B Seller web site. |
| Advertising | Scheduled Promos | |
| | Best Sellers | Dynamically display preferred items throughout the web experience to upsell your customers. |
| | Best Sellers Per Category | |
| | Featured Items | |
| | Customers who Bought X also Bought Y | |
| | Related Items | |
| | Item Icons | |
| Site Management | Reviews | |
| | Trending Items | |
| | Email Cart/Item Detail | |
| Search Enhancements | Popular Items | Sort items by popularity, stock levels, and sales volume |
| | Categories In Search | |
| | Search By Term | |
| | Search Log | |
| | Search Suggestions | Suggests items and categories under the search bar as the user types in it. |
| Order Processing | Dynamic Shopping List | |
| | Shopping List AJAX | |
| | Enhanced Quick Order Pad | Upgrades the baseline Quick Order Pad by adding validation, images, descriptions, prices and bulk adds. |
| | UPS / FEDEX / USPS Integration | Provides real-time freight rates and tracking from UPS, Fedex and USPS. |
| Functionality Improvements | Min / Multi | |
| | Shop By Brand | |
| | Compare Tool | |
| | Prop 65 | Provide Prop 65 warnings for all products that may require them in the State of California. |
| | Shipping Address Verification | |
| | Out of Stock Reminder | |